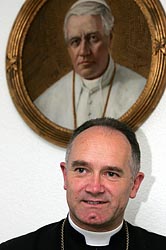 John Allen comments on the meeting between the Pope and Fellay. He also has comments on WYD debriefings and the big shindig last week in Italy of the
Communion and Liberation
movement.
Read first, then read my comments, I won't quote extensively.
On the Lefebvrites
:
Allen's comments on the why and the how of the Lefebvrite movement's validity vs. illicitness are very well timed. The context of the negotiations are typically glossed over in the mainstream Catholic press. The fact that the SSPX could very well build a 'valid' mirror Catholic hierarchy is a very important one. Kudos to John for explaining this in detail.
On Islam
:
The Pope met with Oriana Fallaci, the famed Italian journalist who is terminally ill with cancer. Allen makes the connection that her audience with the Holy Father is yet another example of the new stance of jihadist Islam and the tacit approval of a lot of the mainstream Islamic leaders.
The idea that those countries under Shariah law are somehow not completely civilized is I think a slight mistake. As I've noted before. the problem is more with ingrained social custom. In places like Spain, the Caliph had to beg the Christians not to make trouble. One exception perhaps, but it goes to show that blanket condemnations are not always the best.
On gay martyrs
:
Here I'll quote something:
Philip and Randi Reitan of Eden Prairie, Minn., said they had symbolically "adopted" Ormando as their own son, since his natural family had rejected him. "We know so many young gay men like him, so hurt by the teachings of the church," Randi Reitan said. "When the church teaches people not to accept and to love their own children, it destroys a mother's heart."
Don't blame the Church and its teachings for the social taboos of rural Sicily, thank you very much.
Finally,
On Communion and Liberation
:
I'll quote again, this time CL's founder:
"A movement in the church is like an unplanned pregnancy … the child may be unwanted, but it can't be aborted,"
An interesting and rather striking insight into such things...