A man at St. Mary's in Dublin last April 2nd.
This week, we'll be remembering John Paul II with news on remembrances and a retrospective on April 2nd.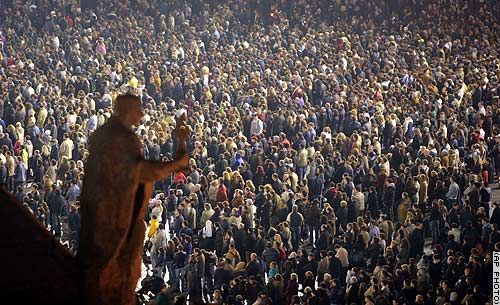 The vigil in St. Peter's Square.
VATICAN CITY, MAR 28, 2006 (VIS) - In St. Peter's Square at 5.30 p.m. on Monday, April 3, Benedict XVI will preside at a Mass marking the first anniversary of the death of John Paul II.

At 9 p.m. on Sunday, April 2, a year to the day after the late pontiff's demise, Cardinal Camillo Ruini, the Pope's vicar general for the diocese of Rome, will preside at the recitation of the Rosary in St. Peter's Square. Following the recitation, the Holy Father will greet those present from the window of his private study.
Photo: 1) REUTERS/Darren Staples, 2) Vatican Watcher collection